The Acquisitions Directorate (CG-9) has issued a request for proposal for a Service Life Extension Program (SLEP) for the Coast Guard's only heavy icebreaker, USCGC Polar Star. This is expected to be done over a five year period.
There is a good chance that the winning shipyard will not be in the Seattle area, where the ship is currently homeported. The last few years, Polar Star has undergone extended annual availabilities in a shipyard in Vallejo, California. This has to have been a hardship on the crew and their families. Once the contract is awarded, we will be fairly sure where the ships will have her availabilities for the next five years. If the winner is not in the Seattle area, I hope the Coast Guard will consider changing the Polar Star's homeport so that the families can be near the shipyard where the renovation will take place.
I have duplicated the CG-9 announcement below. 
—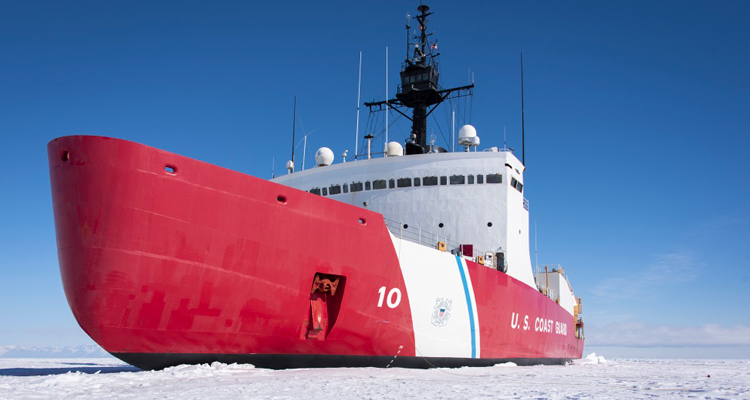 Coast Guard Cutter Polar Star travels through the ice Jan. 2, 2020, approximately 20 miles north of McMurdo Station, Antarctica. The 399-foot icebreaker is the only ship in U.S. service capable of clearing a path through the Antarctic ice to escort one tanker and two cargo vessels to McMurdo Station during Operation Deep Freeze. U.S. Coast Guard photo by Senior Chief Petty Officer NyxoLyno Cangemi.
---
The Coast Guard released a request for proposal (RFP) Jan. 31 to support the Coast Guard Cutter Polar Star service life extension program (SLEP) as part of the In-Service Vessel Sustainment program (ISVS). When completed, the SLEP effort will recapitalize a number of major systems and extend the service life of the cutter until the second Polar Security Cutter (PSC) is operational. This future contract will include SLEP work items and recurring maintenance in a five-year phased production schedule between 2021 and 2025. The future contract will also include an award fee with potential to be earned for making the ship available ahead of schedule.
The RFP is available here. The deadline to submit responses is March 18 at 2:00 p.m. EDT.
The 399-foot cutter – commissioned in 1976 – is the Coast Guard's only active heavy icebreaker. It supports nine of the 11 Coast Guard statutory missions. Each winter, the cutter travels to McMurdo Station in Antarctica as part of Operation Deep Freeze, which supports the National Science Foundation-managed U.S. Antarctic Program.
When the cutter is eventually decommissioned, its duties will be assumed by the planned PSCs. The Coast Guard and the Navy are working together for the acquisition, through an integrated program office. Delivery of the first PSC is planned for 2024.
For more information: In-Service Vessel Sustainment program page