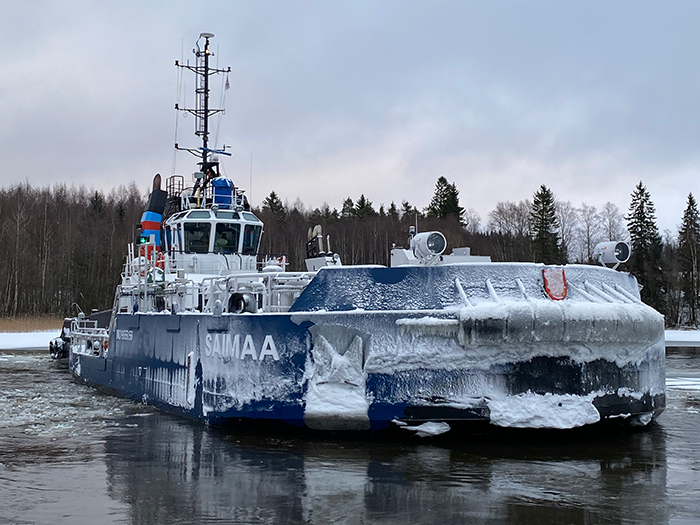 MarineLog reports progress on this. We talked about this earlier, looks like this is happening. This description from the earlier report.
Danfoss Editron's hybrid electric system will powering the removable bow with two generators, built as a DC system, and two propulsion systems. In addition, the company has provided a front supercapacitor so that peak powers can be efficiently controlled. The Editron software also cuts fuel consumption and delivers high efficiencies as the diesel-generators in the DC system can be driven at variable speeds.
Lake Saimaa, where it operates is not very large. Looks like it is about 40 miles from corner to corner. Note while the tug pushing it is not an icebreaker, it is ice strengthened.
Below is a comment on the earlier post by, Tups, a Finn, and our resident icebreaker expert.
"… the technology is easily scalable and, since you don't have to worry about seakeeping during the open water season – you can go for a slightly more "extreme" icebreaking bow to increase the performance at the cost of slamming impacts in head seas. Perhaps this could be a solution for commercial (contracted) icebreaking in the Great Lakes?

"By the way, this relates to another post you published some time ago – the tug that pushes the removable bow is the one that was fitted with the new ice-strengthened bronze propellers."