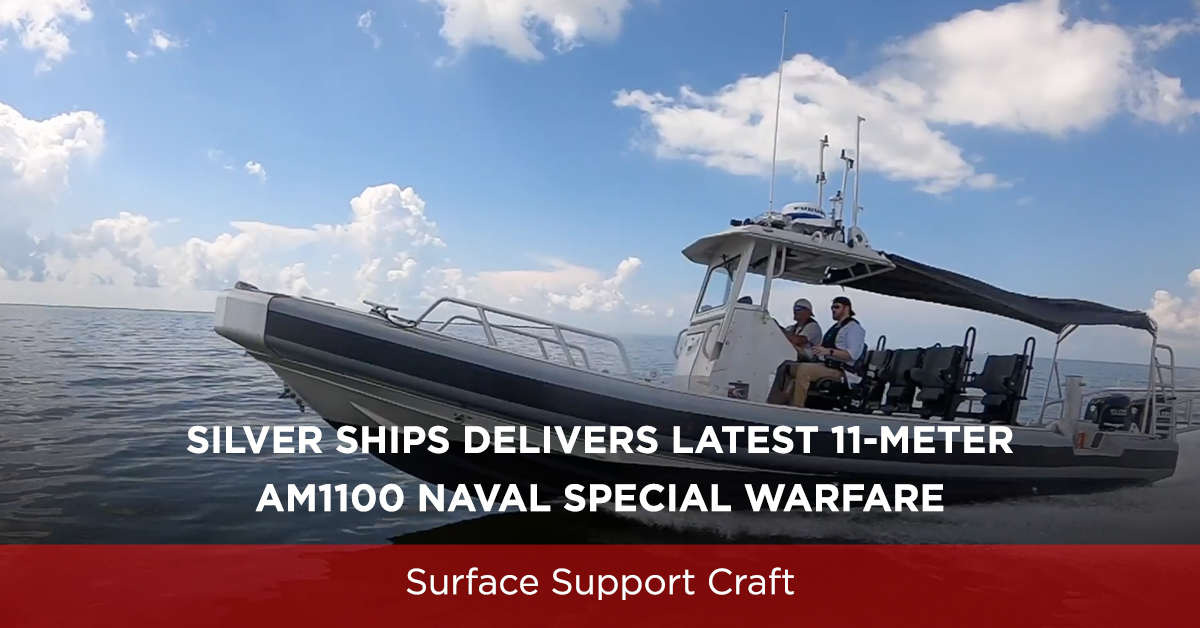 Photo: Not positive, but this seems to be the boat we are talking about. 
The DOD recently announced a boat contract, awarded through the Navy, that involves boats for the Coast Guard (you have to look pretty far down to find it).
Silver Ships Inc.,* Theodore, Alabama, was awarded an $8,239,095 firm-fixed price, indefinite-delivery/indefinite-quantity single award contract (N00024-21-D-2205) for design and construction of up to 110 Navy 8-meter and 11-meter Surface Support Craft and Coast Guard Special Purpose Craft Law Enforcement Generation II (SPC-LE II). Work will be performed in Theodore, Alabama, and is expected to be completed in August 2023. This contract includes options which, if exercised, would bring the cumulative value of this contract to $51,663,787. Fiscal 2020 other procurement (Navy) funds in the amount of $3,242,628 (39%); fiscal 2021 other procurement (Navy) funds in the amount of $3,187,680 (39%); and fiscal 2021 other procurement (Coast Guard) funds in the amount of $1,808,787 (22%) will be obligated at time of award and will not expire at the end of the current fiscal year. This contract is a small business set-aside. This contract was competitively procured via the beta.sam.gov website, with four offers received. The Naval Sea Systems Command, Washington, D.C., is the contracting activity. (Awarded Sept. 30, 2021)
This is Silver Ships' announcement.
This appears to be the boat the Coast Guard will be getting. The Coast Guard will get the "Open Center Console (Open) variant."
Each boat will use three outboards. These are the engines specified in the contract.
Thanks to Paul for bringing this to my attention. He also provided the following that gives more detail: 
C-1 PART 1 – GENERAL STATEMENT OF WORK
This Statement of Work (SOW) defines the effort required for the, design, construction, testing, configuration control, documentation, and program management for the acquisition of the 8m variant,11m variant of the Naval Special Warfare (NSW) Surface Support Craft (SSC) and the United States Coast Guard (USCG) 11m variant (Special Purpose Craft Law Enforcement).
C-1.1 BACKGROUND
The 8m variant and 11m variant NSW SSC boats operate from inshore littorals to blue water, over the horizon locations, in and up to moderate sea states (NSW) in widely diverse climatic conditions (tropical to arctic). They provide over-watch and coverage for diverse NSW waterborne operations, such as: transit for at sea personnel, water parachute jump, diving, surface swimmer support, medical evacuation and command, control, communications, computers, and intelligence duties. The SSCs also provide support for all NSW garrison locations and allow NSW to certify units for deployment in support of Navy and COMNAVSPECWARCOM requirements.
The USCG will use the 11m SSC variant to conduct counter-smuggling, search and rescue (SAR), recreational boating safety (RBS), and ports and waterways coastal security (PWCS) missions and will operate in higher sea states than the USN variants.
All boat variants are desired to provide comparable to enhanced performance of current capabilities while focusing on commonality to maintain reduction in Total Ownership Costs (TOC).
The NSW SSC requires two configuration variants of the 8m and 11m, Open Center Console (Open) and Enclosed Cabin (Cabin), to support mission needs.
The USCG requires the 11m Open Center Console (Open) variant to support mission needs.
C-1.2 QUANTITIES
The resulting contract will be a 5-year Indefinite Delivery, Indefinite Quantity (IDIQ) contract for an estimated one hundred and ten (110) total craft. The initial award is for an estimated fourteen (14) boats.
C-2.2.1 Boat – The Contractor shall provide the boat and trailer in accordance with the Specification
(Attachment 1).
C-2.2.2 UID – The Contractor shall provide UIDs for each boat in accordance with Attachment 6.
C-2.2.3 Boat Specific Technical Data Package (TDP) – The contractor shall provide for each boat one (1) hard copy and one (1) electronic copy (CD/DVD) of the Final 11m OPEN USCG Variant TDP developed under CLIN 1022 specific to each boat.
C-2.2.4 Mercury Verado Engines– The Contractor shall provide three (3) Mercury Verado engines per boat in accordance with the Specification (Attachment 1). The Contractor shall complete the engine break-in in accordance with the Specification (Attachment 1) as part of the boat CLIN.
C-2.14 CLIN 1014 AND IF EXERCISED, CLINs 2014, 3014, 4014 AND 5014 – SHIPPING – USCG
STATION SAN DIEGO, CA and also USCG STATION SOUTH PADRE ISLAND, TX;  USCG STATION MIAMI, FL; USCG MARITIME LAW ENFORCEMENT ACADEMY, CHARLESTON, SC.
The Contractor shall deliver the boat to the location specified in Section F (Deliveries or Performance) and in accordance with Section C, Part 3. Items not integrated into the boat shall be wrapped in protective packaging or container and shall be shipped to the same location either with the boat or via separate shipping.
C-2.18 CLIN 1018 AND IF EXERCISED CLIN 4018 – CREW FAMILIARIZATION (USCG) SAN DIEGO (and the locations listed above)
The Contractor shall provide crew familiarization and training for USCG personnel at San Diego, CA. Crew familiarization shall include craft operations, main equipment operations and maintenance. This shall include Contractor and/or OEM training and component change out for engines, electrical, and HM&E systems. At a minimum training shall be two (2) full days at End User's location for up to ten (10) students. The Contractor shall provide all training materials.