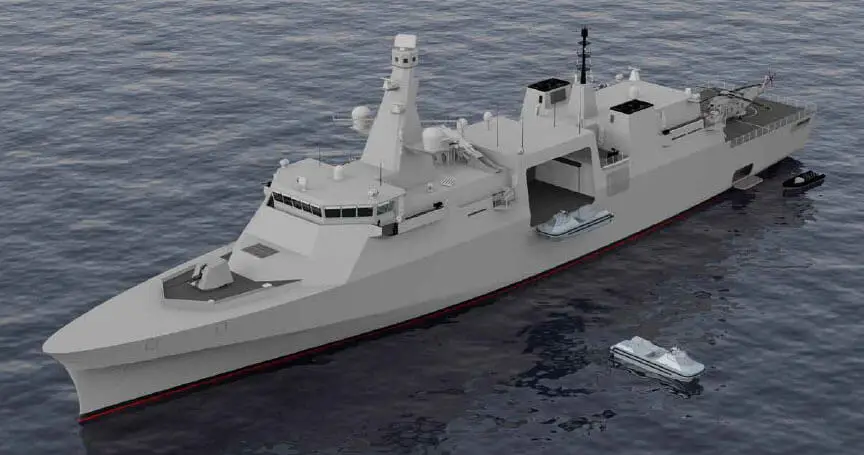 Earlier I suggested that a derivative of the Offshore Patrol Cutter might fill the role of a frigate.
It now appears that a ship with the OPC's DNA has been proposed as a frigate for the Royal Navy and has been offered to the US Navy. The Babcock Arrowhead 120 is the latest of five candidates for the Royal Navy's Type 31e (the other four are outlined here).
The common thread is Vard designs. The family tree looks like this.
Róisín-class patrol vessel, two ships, 1500 tons, 79 meters (259 ft) in length, 23 knots, built by Babcock, commissioned into the Irish Naval Service in 1999.
Protector-class offshore patrol vessel, two ships, 1900 tons, 85 meters (279 ft) in length, 22 knots, built by BAE Systems Williamstown, Australia, for the New Zealand Navy, the first commissioned in 2010.
Samuel Beckett-class offshore patrol vessel, three ships completed and a fourth under construction, 2256 tons, 90 meters (300 ft) in length, 23 knots, built by Babcock and commissioned into the Irish Navy Service in 2014.
USCG Offshore Patrol Cutter, 4,000 tons, 110 meters (360 ft), to be built by Eastern in the US with the first expected to be commissioned in 2021.
NavyRecognition has the most complete description of the ship I have seen so far, and also has three protos of a model of the proposed ship.
Arrowhead 120 has a length of 120 meters, a breadth of 19 meters for a displacement of 4000 tonnes. Its speed is 24+ knots and range is 6000 nautical miles at 15 knots. Crew complement is 80 (plus 40). The vessel was design with commercial standard with applied naval engineering standards.

Missions bays: Space for numerous containerized units within the optimally located mission bays. Facilities for launch & recovery of UXVs. Flexible, reconfigurable infrastructure.

Missile options: Deck space for up to 8 surface to surface guided weapons. Up to 16 cells VLS.

Small calibre guns: Design provision for SCGs up to 30mm with associated EO sensors and magazine arrangements. Weapons can be fitted at a number of upperdeck positions.

Medium calibre guns: Design provision for MCG up to 5 Inch (127mm) with associated infrastructure.

Aviation: Flight deck sized for AW-101 Merlin/MH-60 Seahawk. Hangar capable of accommodating a medium organic naval helicopter (e.g. Seahawk or NH90) or a lighter helicopter plus a VTOL UAV (e.g. AW-159 Wildcat & MQ-8C Firescout). Design can accommodate all envisaged customer naval aircraft.
Babcock is offering the design to meet the US Navy's frigate requirement.
Among companies vying for the Type 31e design contract is Babcock International, which this week unveiled proposals for a 120-meter, 4,000-ton rapidly reconfigurable warship with multiple mission bays; deck space for eight surface-to-surface missiles, 16 vertical launch cells and a 5-inch gun; a flight deck large enough for a V-22 Osprey tilt-rotor aircraft and hanger for MH-60 Seahawk helicopter; and launch/recovery facilities for unmanned vehicles.

Babcock claims that its Arrowhead 120 design will reduce through-life costs by embedding real-time equipment health monitoring sensors during the build process, allowing information about key systems to be gathered during deployments to inform subsequent maintenance periods.
With transatlantic exports in mind, the company also points to its collaborative venture with Florida-based Eastern Shipbuilding to design a new offshore patrol cutter for the U.S. Coast Guard. (emphasis applied–Chuck)
Craig Lockhart, the managing director of Babcock's Naval Marine business, said that an advisor for U.S. naval procurement had expressed interest in the Arrowhead design, and specifically its innovative 'iFrigate' platform monitoring system, at the DSEI event.
The length is up ten meters compared to the OPC, as I thought might be the case, but I am a bit surprised at the reported beam, 19 meters. Since the OPC is 4,000 tons full load and the Arrowhead proposal is both ten meters (33 ft) longer and 2.5 meters (8 ft) greater in beam, the full load displacement of the Arrowhead would likely be considerably greater. The 4,000 tons reported may be a light displacement, meaning this ship is actually larger than the FFG-7 class.
Given the relatively small stacks and the 24+ knot speed, this is obviously an all diesel ship. It will be economical to run and have a long range at relatively high cruising speeds. While I think 24+ knots may be enough, most of the ships to be escorted make 20 knots or less, a speed well below the 29 knots of the FFG-7 class will be a hard sell to the US Navy.
NavyRecognition also has news of another of the Type 31e competitors, the BMT Venator-110 also apparently being proposed to meet the US Navy requirement.
Meanwhile BAE is also offering the much larger and more expensive Type 26 to the USN as well, however with its size and cost (U.S. $4.9 billion for the first three British ships) approaching that of a Burke class DDG, I think that is a long shot.
By contrast the Type 31e is being designed to a price of 250M Pounds or about $340M. That much lower price may be the Type 31e's best selling point.
Late addititon, Sept. 12, 2019