Below I have reproduced a story from the CG-9 Website. To put this into perspective the V-Bat system has a slightly smaller wing span than the ScanEagle (9′ vs 10'3″) and weighs about twice as much (88 lbs (40 kg) vs 44-48.5 lb. (22 kg)), heavier, but still easily handled. There is a skid under the nose to allows the V-BAT to be laid on the deck. Cruise speeds are similar. Dash speed is actually a little higher for the V-BAT (90 vs 80 knots). V-BAT has "Wind Limitations: 20 kt + 5 kt gust spread" for takeoff that should be relatively easy to achieve by adjusting course and speed to minimize wind over deck, but it might be a factor if we want to launch during a chase. V-BAT has a 182cc 15 HP 2-cylinder EFI engine which can use either a Gas-Oil Mix or JP-4/5/8. It has a remote start and can provide 500 watts onboard electrical power. It has a 350 mile range (statute miles I presume, so about 300 nautical miles) and has a highly accurate fuel monitoring system. 
Interestingly, for operation from say a Webber Class FRC, there is also a smaller electric eV-BAT.
Wing Span: 5 ft
Length: 4 ft
Weight: 18 lbs
Ceiling: 5k ft
Speed: 50 kts
Propulsion: 3 HP electric motor
The electric eV-BAT is probably both very reliable and very quiet. I am guessing, based on what I know the technology it has an endurance of about 20 minutes. Its sensors would be limited by the lower payload weight.
Don't believe any of these smaller UAVs have a "sense and avoid" system to prevent mid-airs so they, and the surrounding air space, has to be monitored while they are airborne.
—-
Guard evaluates new technology for unmanned aircraft system operations
Aug. 28, 2020 —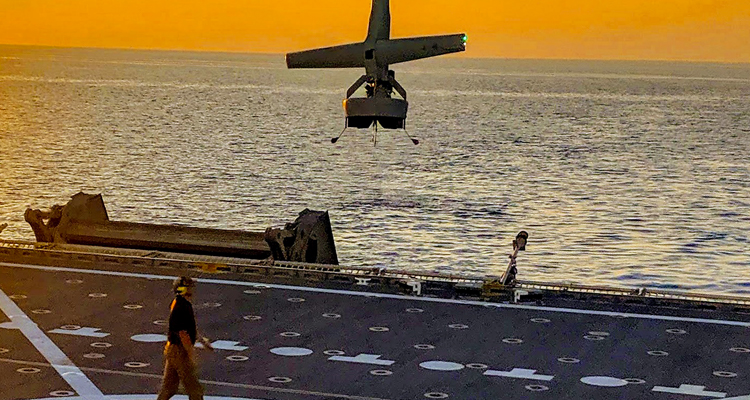 A V-BAT vertical take-off and landing (VTOL) unmanned aerial system prepares to land on the flight deck of the Military Sealift Command expeditionary fast transport vessel USNS Spearhead during a C4F "innovation cell" test of the VTOL. Photo courtesy of Martin UAV V-BAT.
---
The Coast Guard Research and Development Center (RDC), Coast Guard Atlantic Area and U.S. Southern Command (USSOUTHCOM) conducted a collaborative unmanned aircraft system (UAS) pilot program utilizing a vertical takeoff and landing (VTOL) UAS Aug. 13-14. The pilot program utilized contractor-owned, contractor-operated UAS services on-board Coast Guard Cutter Harriet Lane in the USSOUTHCOM area of responsibility for a short-term deployment.
"SOUTHCOM has long had interest in the demonstration of this technology, and we are always looking for opportunities to advance our knowledge of its capabilities," said Cameron Stanley, command science adviser for USSOUTHCOM. "This was a great opportunity to evaluate the potential use of this technology alongside our critical interagency partners to advance the state of practice and enable our collective response to common operational challenges."
The Martin UAV V-BAT was used for this program; it is the first-ever VTOL medium range UAS to be evaluated during an operational Coast Guard patrol. Because of the vertical takeoff, a VTOL UAS does not require any additional gear on the flight deck to support operations, unlike other UAS that require launch and recovery devices.
The deployment is providing the RDC invaluable data for supporting future VTOL medium range UAS capabilities and efforts involving Beyond Visual Line of Sight operations. While the evaluation is looking at how successfully VTOL systems take off and land on board a Coast Guard cutter, patrol data can be used to refine the concept of operations and requirements for installing and integrating VTOL UAS across current and future cutter classes.
UAS technology has already proven to be a game changer for the Coast Guard. Information provided by sensors aboard UAS "impacts timelines for obtaining a statement of no objection for boarding vessels, provides situational awareness for boarding crews prior to embarking on targets of interest and provides a better covert means for tracking targets of interest," resulting in enhanced maritime domain awareness and mission execution, explained Stephen Dunn, RDC aviation research scientist. "The VTOL system takes things a step further by reducing the footprint of the UAS for future Coast Guard cutter acquisitions," Dunn said.
For more information: Research and Development Center program page and Research, Development, Test and Evaluation program page