Below is a news release from the Acquisitions Directorate (CG-9). The greater range and endurance will be particularly helpful for countering Illegal, Unregulated, and Unreported fishing in the Pacific.
Coast Guard begins HC-130J operations at Air Station Barbers Point, Hawaii
June 17, 2021 —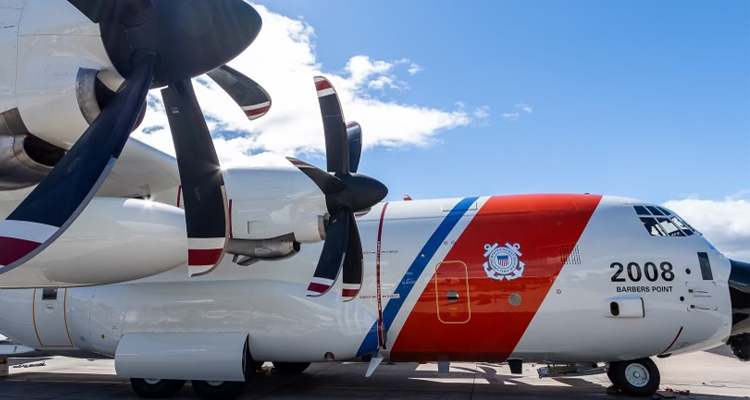 CGNR 2008 arrives at Coast Guard Air Station Barbers Point, Hawaii, June 11, 2021. U.S. Coast Guard photo.
Coast Guard Air Station Barbers Point, Hawaii, received its first HC-130J Super Hercules long range surveillance aircraft June 11. The older HC-130Hs at the station are being replaced with the more capable Super Hercules aircraft; the current schedule has a fleet of four HC-130Js in Barbers Point by the end of summer 2022. Air Station Barbers Point will be the third of five air stations to transition to the Super Hercules.
The HC-130J features more advanced engines and propellers, which provide a 20% increase in speed and altitude and a 40% increase in range over the HC-130H Hercules. Another notable difference is the liquid oxygen system, which allows crews to fly at higher altitudes, providing a better vantage point for many missions. These aircraft have a modernized glass cockpit, the capability to execute GPS approaches, and are outfitted with the Minotaur Mission System Suite, which provides increased capabilities for use of the sensors, radar and intelligence-gathering equipment.
"These new capabilities of the HC-130J will be particularly helpful operating despite the tyranny of distance," said Gerald Foreman, program manager of the HC-130J program. "The increased performance will improve range, on-scene time and airfield access to better execute long-range search and rescue, patrol and logistical support missions across the vast 12.2 million square miles of open ocean, atolls and island nations that comprise (Air Station Barbers Point's) area of operations."
The Coast Guard currently operates 13 HC-130Js as part of its long range surveillance aircraft fleet, with Coast Guard Air Stations Elizabeth City, North Carolina, and Kodiak, Alaska, fully converted. Two C-130Js are undergoing missionization with deliveries expected in September 2021 and June 2022. Three additional C-130Js are under contract, with delivery in 2023, 2024 and 2025. In addition to continued Minotaur missionization efforts on new aircraft, the service plans to complete the block 8.1 upgrade on all its HC-130J aircraft to maintain platform common configuration and meet modern airspace operations requirements.
The service's fleet of HC-130Js is the Department of Homeland Security's (DHS) largest airlift asset, carrying out many Coast Guard missions, including search and rescue, drug and migrant interdiction, cargo and personnel transport, and maritime stewardship as well as providing critical support to DHS partners. The aircraft also can serve as a command and control or surveillance platform capable of identifying and classifying objects and sharing that information with operational forces.
Related:
Air Station Barbers Point receives special delivery for Aloha Friday
For more information: HC-130J Long Range Surveillance Aircraft program and Minotaur program page