A recent article from Baird Maritime reminded me once again, of a type of vessel I think the Coast Guard should seriously consider, a replacement for the 65 foot icebreaking tugs. Reportedly the Coast Guard hoped to decommission the 65 foot tugs, but Congress would not allow it. Their breaking ice dams for flood prevention and domestic icebreaking was considered too important.
This particular design seems to offer some additional advantages I have not seen in previous designs. Designed to operate in the Baltic in ice up to 0.8 meters thick (that is 0.3 meters more than the 140 WTGBs), it is substantially larger than the 65 footers at 31.5 meters or about 103 feet. The report indicates seaworthiness was a major consideration.
The Congressional contingent from the Great Lakes area have repeatedly expressed concerns about Great Lakes Icebreaking (and here). They want another icebreaker comparable to the Mackinaw, but a few more icebreaking tugs might actually be a better response.
In addition to icebreaking, these could provide a ready response to pollution incidents (this one can transport a standard 20 foot container). Given fire monitors these vessels could function as fireboats.
Of course this tug isn't the only option, nor is it the only icebreaking tug design out there. I had intended to talk about this earlier, so I have some old news to reference.
When you look at these options keep in mind what we have now.
The nine 140 foot WTGBs entered service August 1979 to August 1988 so they are 33 to almost 43 years old and have only 2500 HP, speed 14.7 knots. We have done life extension work on them, but maybe its time to look for their replacements too.
The eleven 65 foot WYTLs entered service July 1961 to May 1967 so they are 55 to almost 61 years old and have only 400 to 475 HP, speed 10 knots.
In addition to the tug above, Robert Allen has designed a number of tugs including an icebreaking/buoy tending tug built in the US for the Saint Lawrence Seaway. Check out this Marine Log report.
Gulf Island Fabrication to Build TundRA 3600 for Saint Lawrence Seaway Development Corporation
MarineLink reported that MedMarine (a Turkish shipbuilder) is building some icebreaking tugs for Danish company, Svitzer. (They also have an office in Florida.) The design designated "TundRA 3000″ is by Canadian designer Robert Allan Ltd.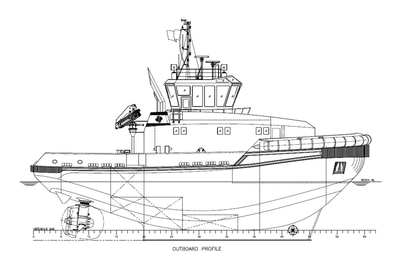 TundRA 3000 design has following design particulars:
Length overall: 30m
Beam of hull: 12.6m
Extreme beam (including fenders): 13.2m
Depth moulded: 5.7m
Maximum draft: 5.6m
Gross tonnage: <500GT
Minimum bollard pull: 60ton
Power: Approx 3900 kW (5300 HP)
At the small end we have this 56 foot long icebreaking tug with 750 HP, almost twice that of our 65 foot tugs.
My point is not that any particular design is the answer, but that there are much better and more effective designs out there compared to vessels we are currently using. Crew size and operating costs are likely to the same or perhaps less. There is new technology that is more economical, offers better maneuverability, and lower emissions. Additionally they could be more generally useful than the tugs we have. They might have buoy tending capabilities, fire fighting monitors, or provide ready oil pollution incidence response.