The Acquisitons Directorate (CG-9) reports that USCGC Polar Star has returned to Seattle, after at least 146 days away from homeport (April 8 to Sept. 1) following the second phase of a five phase Service Life Extension program at Mare Island Dry Dock, Vallejo, California.
Now that is a long time. I know steps have been taken to mitigate the hardship this time away from homeport has caused, but knowing the ship will be spending months every year in Vallejo, wouldn't it be worthwhile to change the ships homeport? It might also have allowed the ship to make an Arctic Summer cruise.
After all that is going into remaking this ship, I wonder if perhaps we will keep it around, even after the second Polar Security Cutter is delivered?
---
Polar Star arrives at homeport after completion of dock work and sea trials during second phase of service life extension project
Sept. 1, 2022 —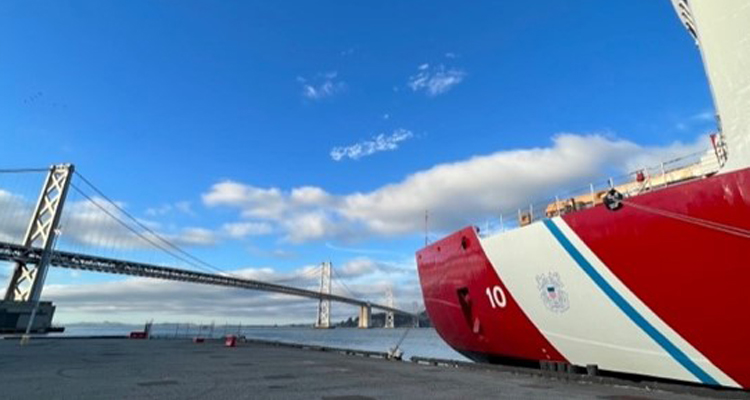 Coast Guard Cutter Polar Star sits moored in San Francisco following completion of dock trials on Aug. 12, 2022, for the second phase of its service life extension project completed by Mare Island Dry Dock. U.S Coast Guard photo.
---
Coast Guard Cutter Polar Star has completed sea trials for the second phase of its service life extension project (SLEP), as part of the In-Service Vessel Sustainment Program, and returned to its homeport of Seattle. The remaining contracted production work will be completed by Sept. 30 at the homeport, as well as final testing of the newly installed machinery control systems.
Polar Star commenced the second phase of SLEP work items and recurring maintenance on April 8. Service life extension program work is taking place over a five-year, annually phased production schedule that runs through 2025, and each phase is coordinated to support operational commitments, such as the annual Operation Deep Freeze deployment to Antarctica, and to take advantage of planned maintenance availabilities. During the second phase, all of the galley equipment was recapitalized, reflecting the modern upgrades of commissary equipment available on extended voyage seagoing ships.
In addition, Naval Surface Warfare Center Philadelphia Division and Coast Guard Yard installed two machinery control systems. The Coast Guard Machinery Control System (CGMCS) recapitalizes the Main Propulsion Control and Monitoring System that was installed during Polar Star's reactivation in 2013. The CGMCS increases system reliability and operator familiarity, as this newly installed propulsion control system is standard across much of the service's surface fleet. The new Propulsion Power Distribution System replaced the analog diesel electric propulsion suite that was installed when Polar Star entered service in 1976. The new system features improved reliability as compared to the legacy system and reduces maintenance requirements that previously took approximately 45 days and 1,600 maintenance-hours to complete.
The Polar Star crew will conduct integrated operational testing of both new systems prior to departing for Operation Deep Freeze in 2023. The cutter regularly completes Operation Deep Freeze deployments to resupply McMurdo Station in Antarctica.
Polar Star is the Coast Guard's only active heavy icebreaker. The 399-foot cutter supports nine of the 11 Coast Guard statutory missions. The Coast Guard is investing in a new fleet of polar security cutters (PSC) that will sustain the service's capabilities to meet mission needs in both the Arctic and Antarctic regions. The first PSC is on contract for delivery in 2025.
For more information: In-Service Vessel Sustainment Program page and Polar Security Cutter Program page