Below is a story from the Acquisitions Directorate (CG-9). The first eight NSCs now all have ScanEagle unmanned air systems (UAS). USCGC Stone will get hers next year. So far they have gotten 3,300 hours during 20 patrols. That averages to 165 hours per patrol. Assuming 60 day patrols, that equates to about 2.75 flight hours per day or about 16 long flights per patrol. Sounds like both great progress and potential for a lot more flight time.
Coast Guard completes UAS installations on two national security cutters
April 16, 2021 —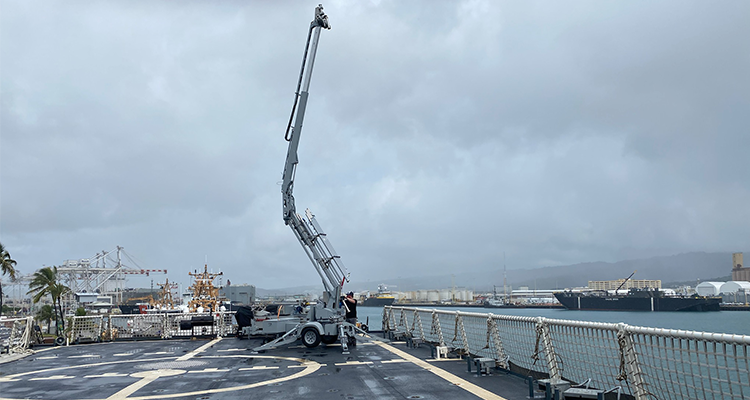 Shoreside testing of launch and recovery equipment for unmanned aircraft system capability was conducted on Coast Guard Cutter Midgett's flight deck while tied up at Base Honolulu. U.S. Coast Guard photo.
---
The Coast Guard small unmanned aircraft system for the national security cutter (NSC) program in March completed system operation verification testing for the unmanned aircraft system (UAS) installations on Coast Guard cutters Hamilton and Midgett. This milestone completes the effort to outfit the first eight NSCs with UAS capabilities. Coast Guard Cutter Stone, which was commissioned March 19, 2021, will undergo installation of UAS capability in 2022 and, after testing, will have full UAS-functionality in 2023.
Since the first installation, the UAS capability has completed more than 3,300 flight hours on 20 NSC patrols. UAS platforms have supported 78 interdictions, assisted in the seizure of 72 tons of illicit narcotics worth over $1.7 billion and helped facilitate the capture of 161 narco-terrorists.
The UAS capability on the NSCs has also been used to:
Provide real-time damage assessments of the Bahamas in the aftermath of Hurricane Dorian in September 2019. This event was the first time the Coast Guard used UAS overland for humanitarian relief efforts; the added surveillance capability allowed the service to focus recovery assets on emergent search and rescue and critical infrastructure needs.
Aid a medical evacuation off a container ship in the Bering Sea, saving one life.
Aid in a person-in-the-water search and rescue case off Hawaii in September. Work groups are underway to determine how to use UAS for search and rescue in the future.
Identify more than 35 Chinese vessels illegally fishing off the coast of the Galapagos Islands by sorting through Automatic Identification System data from 150+ vessels actively operating in the area.
The deployment of an UAS-enabled NSC and its comprehensive sensor suite packages can support day and night operations. UAS capability can conduct surveillance, detection, classification and identification of a wide range of targets and is capable of up to 18+ hours of continuous flight time per day.
The Coast Guard is deploying a contractor-owned, contractor-operated solution to provide UAS capability onboard the NSCs; the current contract includes options that could extend service through June 2026. The Coast Guard is also conducting preliminary efforts to explore the potential benefits of deploying UAS across several surface, and potentially land-based, platforms.
For more information: Unmanned Aircraft Systems program page and National Security Cutter program page