The US is critically short of trained Merchant Mariners. Below is a story from MyCG about how Coast Guardsmen can help fill the need and find a second career after the Coast Guard.
New courses developed by the Military to Mariner Program and approved by the National Maritime Center ease pathway to earning credentials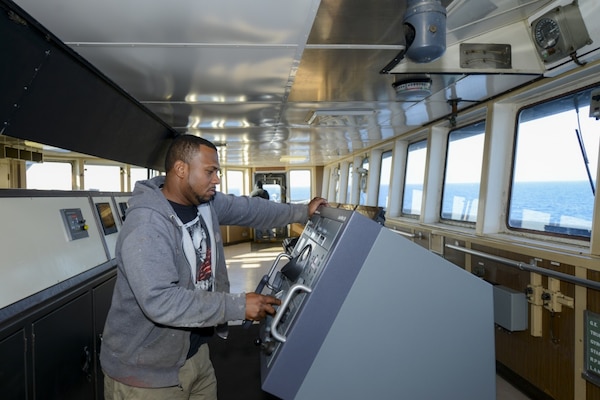 PACIFIC OCEAN (Sept. 30, 2016) A merchant mariner aboard the fast sealift ship SS Capella (T-AKR 293) mans the helm as the ship is underway to conduct a 120-hour turbo activation. The U.S. Transportation Command (TRANSCOM) conducts turbo activation to measure personnel and material readiness of the selected Ready Reserve Force. Capella, more than 40-years-old, is still among the fastest cargo ships in the world and capable of transporting nearly all equipment needed to outfit a full mechanized brigade of the U.S. Army. (U.S. Navy photo by Petty Officer 2nd Class Billy Ho/Released)0PRINT  |  E-MAILApril 21, 2021 —
The Military to Mariner (M2M) program, along with the National Maritime Center (NMC), is facilitating obtaining merchant mariner credentials through four new courses.
These courses allow students to complete training requirements in lieu of an examination at a regional exam center, thus streamlining obtainment of a national credential.
The M2M program is a subset of the Force Readiness Command's (FORCECOM) Voluntary Credentialing Program. Through several efforts, the M2M program supports enhanced professionalization of the workforce while in service and improved post-service employment opportunities in the maritime industry upon separation.
The NMC is the merchant mariner credentialing authority for the United States Coast Guard under the auspices of the Department of Homeland Security. The mission of the NMC is to issue credentials to fully-qualified mariners in the most effective and efficient manner possible in order to ensure a safe, secure, and environmentally sound marine transportation system.
The four courses are collections of Coast Guard training and qualifications that meet credentialing requirements. Each maritime course has a pathway to a merchant mariner credential. Together, the M2M program and the NMC are working to approve additional courses.
Credential-seeking members who want to take advantage of these courses will have to complete all course requirements and a final examination prior to receiving a certificate of completion.
The four approved deck courses for service members are:
Lifeboatman Limited
Able Seaman
Operator of Uninspected Passenger Vessels
Master or Mate of vessels less than 200 tons
To design its courses, the M2M program analysis teams cross-walked all relevant training, qualifications, and experience for both deck and engineering to national credentials. The crosswalk data identified gaps between Coast Guard content and professional mariner training and skills. With the Office of Cutter Forces, the M2M program successfully closed deck gaps and mapped pathways to produce deck courses. The M2M program continues to work with the Office of Cutter Forces to close engineering gaps.
Participation in the M2M program courses is strictly voluntary and is only one of many options available to members seeking merchant mariner credentials. Members can elect to take training courses through other vendors. In fact, many units coordinate these training opportunities. It is also important to note, members do not have to take training if seeking a merchant mariner credential under 200 gross tons.
Members can request to take examinations towards a desired credential with their regional exam center.
For members who are seeking to complete the requirements for a merchant mariner credential, the M2M program is here to further their efforts.
The M2M program supports members seeking merchant mariner credentials through counseling on credential options and opportunities, advocating for policies, and analyzing training and qualifications that align with merchant mariner credentials. The M2M program aims to reach members early in their career so they can grow their credential from entry level to higher tonnages by the time they transition out of service.
"This is a great step in streamlining the process for the members," said Stephen R. Keck, chief of FORCECOM Career Investment. "Upon completion of one of these courses, the M2M program will issue a course completion certificate that members can submit to NMC for credit as part of their merchant mariner credential application. This removes the hurdle for members to take examinations at a regional exam center and to seek outside training courses in order to earn a merchant mariner credential."
To reach out to the program to ask questions or provide feedback about your application experience, contact M2M program by email.
More information on how to participate and complete requirements can be found at the portal.
For more detailed information on the Navy COOL program, see the comprehensive Blueprint to Mariner document.
Reference:
Coast Guard Merchant Mariner Credential Pathway by Military to Mariner (M2M) Program ALCOAST 153/21