In the photo above we see the former USCGC Kiska in an earlier life. Foreign military sales and transfer of excess property seem to be a growing Coast Guard mission. This does to some extent justify earlier recapitalization than might otherwise be the case. It is part of our attempt to build capacity in like minded partners' navies and coast guards.
Coast Guard celebrates completion of training as part of cutter transfer to Ukraine
Oct. 26, 2021 —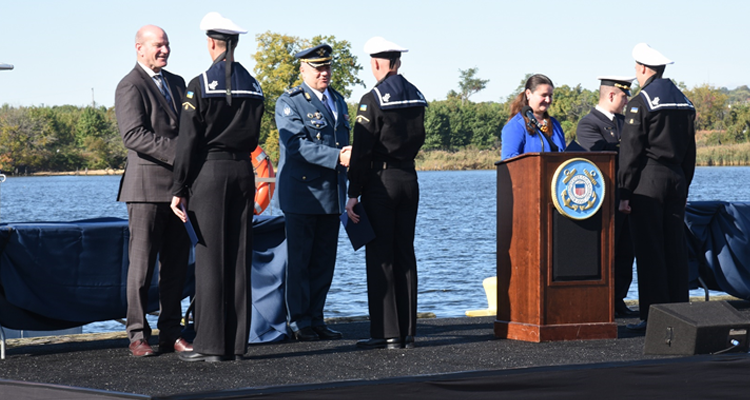 Members of the Ukrainian Navy receive congratulations following completion of Coast Guard training to operate and maintain a 110-foot Island Class patrol boat. These crewmembers will serve on Kubrak, the former Coast Guard Cutter Kiska, which will be delivered to Ukraine in early 2022. U.S. Coast Guard photo.
---
The Coast Guard Office of International Acquisition recognized 16 members of the Ukrainian Navy in a ceremony Oct. 22, 2021, at Coast Guard Yard in Baltimore. The Ukrainian crew just completed a rigorous six-week training program as part of the transfer of a 110-foot Island Class patrol boat to Ukraine.
The Coast Guard Cutter Transition Division Training Team helped the Ukrainian crew master the art of damage control, engineering maintenance, ship handling and watchstanding on Kubrak, which is the former Coast Guard Cutter Kiska. The Coast Guard officially transferred the title of the ex-Kiska Oct. 23, 2020. Since the title transfer, the cutter has been undergoing maintenance and upgrade work at Coast Guard Yard.
Kiska is the fifth patrol boat to be transferred to Ukraine under the Coast Guard Excess Defense Articles Program. Two cutters (ex-Drummond and ex-Cushing) were delivered to Ukraine in 2019, and two cutters (ex-Ocracoke and ex-Washington) will be transported to Ukraine later this month. Delivery of Kubrak to Ukraine is anticipated in early January 2022.
During its service as a Coast Guard cutter, the ex-Kiska was homeported in Hilo, Hawaii, and Apra Harbor, Guam, with primary missions of search and rescue, counter-drug activities and homeland security in addition to patrolling international and territorial waters as a humanitarian, law enforcement and Department of Homeland Security asset.
The ex-Kiska is the 11th 110-foot patrol boat transferred to a foreign partner nation; other patrol boats have been transferred to Pakistan, Georgia and Costa Rica. Congress has authorized transfer of two additional boats to Ukraine in fiscal year 2022. Recipients of former Coast Guard assets are determined by an interagency committee, led by the State Department.
Each 110-foot patrol boat transfer saves the Coast Guard money in remediation and disposal costs and helps build and sustain international maritime partnerships that foster greater global maritime security. One of the United States' goals in this transfer is to help equip Ukraine with the means to project national sovereignty.
Coast Guard 110-foot patrol boats entered service in the mid-1980s; 15 of the 49 cutters originally in the class remain in service. The ships are being replaced with 64 154-foot fast response cutters, 45 of which are in service.