Below I have reproduce an announcement from the Acquisitions Directorate, CG-9. Names for FRCs #55-64 were announced earlier along with a brief summary of the namesake's accomplishments. Wikipedia lists the names for all 64 and reported homeports for the first 47.  The last four FRCs, #61-64 have not been funded, and no request for funding was in the Administration's FY2021 budget request. Hopefully Congress will see fit to add them. 
I would not be surprised to see Congress decide we need to replicate PATFORSWA in the Western Pacific. That would require additional FRCs, #65-70 if all are in addition, #65-67 if it incorporated the three already planned for Guam. If they are going to do that, they need to fund 61-64 in FY2021 to keep the hot production line going. 
---
Coast Guard exercises contract option for FRCs 57-60
Sept. 22, 2020 —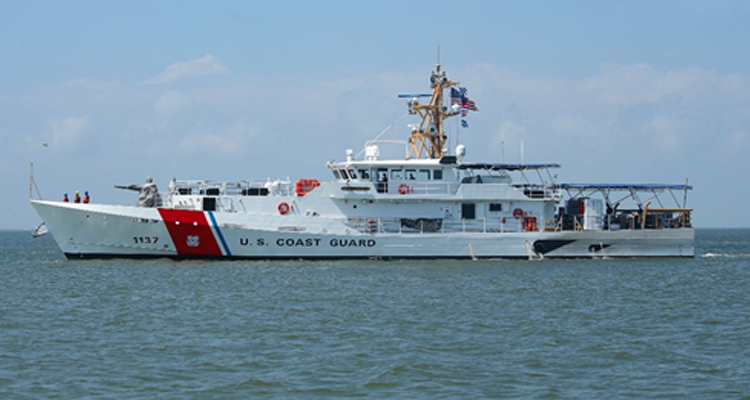 Coast Guard fast response cutter (FRC) Edgar Culbertson, commissioned June 11, 2020, is the 37th FRC delivered to the Coast Guard. The service awarded a contract option Sept. 22, 2020, for production of four more Sentinel-class FRCs and associated deliverables. U.S. Coast Guard photo.
---
The Coast Guard today exercised a contract option for production of four more Sentinel-class fast response cutters (FRCs) and associated deliverables worth just over $222 million with Bollinger Shipyards of Lockport, Louisiana.
This option brings the total number of FRCs under contract with Bollinger to 60 and the total value of the contract to approximately $1.48 billion. The FRCs built under this option will be delivered beginning late-2023 into mid-2024. The FRC contract was recently modified to increase the maximum number of cutters to 64 FRCs and total potential value to $1.74 billion if all options are exercised. This change was needed to maintain the domestic program of record of 58 FRCs while also providing for the replacement of six 110-foot patrol boats assigned to Patrol Forces Southwest Asia.
To date, there are 38 FRCs in operational service.
FRCs have a maximum speed of over 28 knots, a range of 2,500 nautical miles and an endurance of five days. The ships are designed for multiple missions, including drug and migrant interdiction; ports, waterways and coastal security; fishery patrols; search and rescue; and national defense. They feature advanced command, control, communications, computers, intelligence, surveillance and reconnaissance equipment; over-the-horizon cutter boat deployment to reach vessels of interest; and improved habitability and seakeeping.
For more information: Fast Response Cutter program page